3-Year Professional SE Training in Zagreb, Croatia
Beginning 1- February-6- 11-2018
Beginning 2,3 –September-3- 8-2018
Intermediate -April 15-20- 2019
Intermediate- September 19-24- 2019
The SE Professional Training curriculum is delivered through a combination of lecture,demonstration, and guided practice sessions with other students. Course material is taught in 8 training modules of 4 to 6 days in length, spaced out over 2½ to 3 years. Training modules must be taken in sequence. In exceptional cases, where a student is unable to attend one of the live training modules, we offer supplemental DVD training modules for our Beginning and Intermediate classes so that students may continue with their local training group (certainrestrictions may apply).
Beginning Level
Develop foundational knowledge and skills in the SE biophysiological model for the resolution
of trauma.
Typically consists of 6-day live training modules.
 Understand the physiology of traumatic stress and its effect on the autonomic nervous system (ANS)
 Practice the fundamental SE method of tracking sensation to access responses in the ANS
 Learn the neurophysiology of each aspect of the threat response: defensive orientation, fight/flight/freeze, deactivation and completion, and exploratory orienting
 Develop skill in working with the SE model of tracking sensation to support completion of the threat-response cycle and incomplete survival responses
 Learn how to "titrate" (modulate) the SE trauma-renegotiation process to ensure healthy integration of experience
 Begin to integrate Porges' Polyvagal Theory of ANS function
 Understand the SE model of SIBAM (Sensation, Image, Behavior, Affect, Meaning) and its significance in trauma
 Explore coupling dynamics—the over- and under-association of the elements of SIBAM and elements of physiological responses to traumatically-stressing experiences
 Support clients in re-establishing and maintaining healthy boundaries
Learn to identify, normalize, and stabilize traumatic reactions
Acquire brief intervention skills that provide long-term solutions to acute and chronic symptoms of
trauma
 Explore the integration of SE into ongoing professional practice
 Explore the appropriate use of touch in the context of SE
Intro to Somatic Experiencing  in Croatia, Zagreb
Traditionally, therapies have attempted to change perceptions of the world by means of reason and insight, with conditioning and behavior modification, or with drugs and medications. However, perceptions remain fundamentally unchanged until the internal experience of the body changes.  Even after the death of a loved one, physical injury, a rape or assault, survivors can learn to have new bodily experiences, can heal, can accept what has happened and then create new lives and new communities.   
The trauma response is a set of defensive bodily reactions that people initially mobilize in order to protect themselves, both from threat, and then later, against feeling the crushing totality of their horror, helplessness and pain. However, as time goes on, this avoidance keeps them frozen and stuck in the past, unable to be fully present, in the here and now, and unable to go forward in life.
Fixed in the defensive trauma response, the shame, defeat and humiliation, associated with the original event replays itself over and over again in the body; detached from history, but intruding into the present.
Together, we will explore the implications of Body-oriented psychotherapy and recent findings in the neurosciences, on how the brain and body deals with emotional information, while also providing an understanding of effective therapeutic action.
This training is geared for psychotherapists of all types, as well as for physicians, nurses, physiotherapists, bodyworkers, and educators.
INFO AND REGISTRATION
Date and time: Friday – Sunday, 23.06. – 25.06.
Applications via the web form: 
https://goo.gl/forms/mtf5M3a25fKUoRnu1
Address: Jalovečka 1, Stenjevec (Zagreb).
Contact: For more information:
Tatjana Bushana, bushana@usa.net
Lidija Delić, radionice@galbanum.hr
Peter A Levine, PhD – is the developer of Somatic Experiencing®, a naturalistic, approach to healing. He has received the Lifetime Achievement award from the United States Association for Body Psychotherapy, as well as the Reiss-Davis Chair for his lifetime contribution to infant and child psychiatry. Dr. Levine served as a Stress consultant for NASA's space shuttle development program.
He is the author of several best-selling books on trauma, including Waking the Tiger, Healing Trauma (published in 24 languages), In an Unspoken Voice: How the Body Releases Trauma and Restores Goodness and his latest book, Trauma and Memory.
Somatic and Expresive arts international with School of complementary therapies Galbanum organize an introductory workshop in Zagreb "Somatic Experiencing" 02nd and 03rd of December.
Somatic Experiencing® (SE®), developed by Peter A. Levine, PhD, is a naturalistic approach to healing, resolution and prevention of trauma. This revolutionary method, supported by leading-edge neuroscience, is based on the observation that wild prey animals, though routinely threatened, are rarely traumatized. Learning to model an animal's innate resilience to stress enables humans to return to equilibrium in the aftermath of stressful and extreme experiences such as: violence, accidents, medical procedures, fear, rage, and grief. Somatic Experiencing is a profoundly effective method of gently healing trauma based on the premise that the nervous system inherently knows how to return to balance if given the right support.
The Somatic Experiencing® Professional Training Program is taught worldwide and provides healing professionals with the knowledge and skills required to effectively treat PTSD, as well as developmental and shock trauma. SE's® body-focused approach helps restore the inherent self-correcting, self-regulating mechanisms of the human nervous system, enhancing clients' capacity to fully enjoy a wide spectrum of human experience.
INFO AND REGISTRATION
Date and time: Friday 02.12. from 17:00 – 22:00h, Saturday 03.12. from 10:00 – 18:30h
galba Address: Jalovečka 1, Stenjevec (Zagreb)
Registration: Applications via the web form: https://goo.gl/forms/01cuOBhuxgaMkxOI3
Contact: Tatjana Bushana: bushana@usa.net or Lidija Delić: radionice@galbanum.hr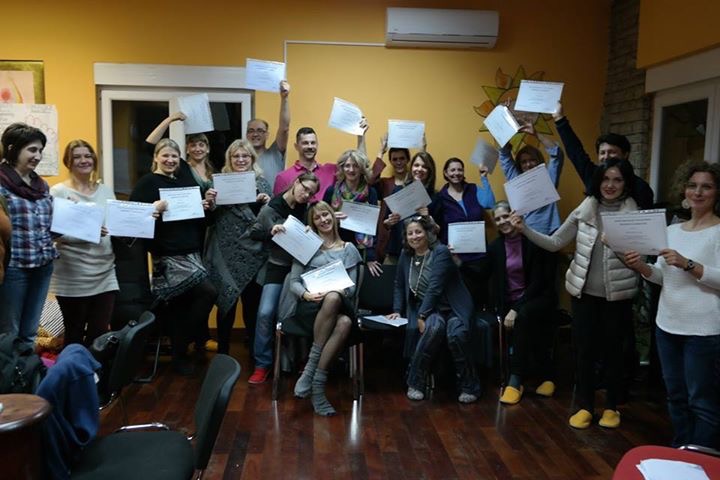 Organic intelligence introductory workshops 
3 Year Somatic Experiencing professional education and training 
Dates: 3 and 4 of April-2016
19 and 20 of November-2016
These workshops are the first steps toward 3 year professional training course for a limited number participants. Training will start in Croatia in 2017. 
The first two day Organic Intelligence introductory workshop was held in Zagreb, Croatia, in October 2015. The workshop was facilitated by guest teacher Cynthia Merchant M.A., MFT, SEP from Berkeley, California whom we thank for donating her time and expertise. 
There were 20 participants, including writers, nurses and psychologists, from Croatia, Bosnia-Herzegovina and Serbia. 
Participants were introduced to the theory of Organic Intelligence, and were taught basic practical skills in nervous system healing and regulation. 
By completing this workshop, the participants were able to experience the benefits of Organic Intelligence and met the initial criteria for acceptance into the three-year professional training course, to be held in Croatia in 2017.